Results as at 30 September 2021
Board of Directors of BNP Paribas met on 30 July 2020. The meeting was chaired by Jean Lemierre and the Board examined the Group's results for the second quarter 2020 and endorsed the interim financial statements for the first half of the year.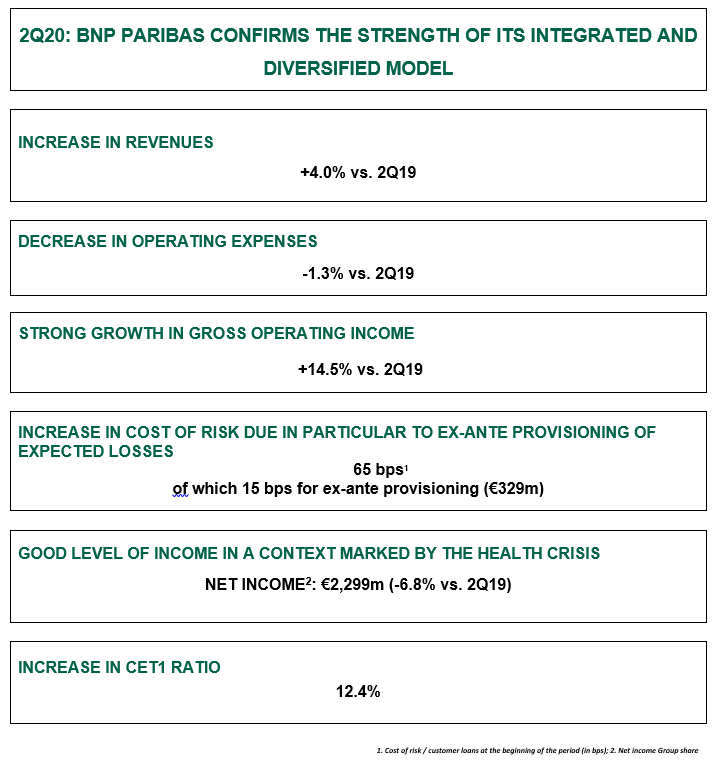 Read the press release: "BNP Paribas Group: Results as at 30 June 2020"
BNP Paribas is expanding to all OECD countries its target to end the use of coal by its electricity-producing customers by the end of 2030.
The Group will continue its commitment to put an end, in the near future, to relations with any customer developing new coal-based production capacity.
BNP Paribas will no longer accept any new customers with a coal related revenue share of more than 25%.
The implementation of this policy will quickly lead to a reduction of around half of the number of BNP Paribas corporate customers using coal for a share of their electricity generation.
Since 2011, BNP Paribas has consistently tightened its funding criteria for coal-related activities, particularly the generation of electricity using coal.
Since 2017, BNP Paribas has not financed a single new coal-fired power-plant project anywhere in the world and does not advise on the purchase or sale of such assets. In 2019, the bank adopted cut-off dates (2030 for the European Union and 2040 for the rest of the world) beyond which its electricity-producing customers will no longer be able to use coal. In 2019, the share of coal in electricity generation already averaged less than 18% among BNP Paribas customers, compared to 38% for all global electricity companies[1].
At the same time, in 2017, the bank was the first of the world's 35 largest banks to cease dealings with shale-gas and tar-sands companies, and remains the bank with the broadest criteria, which includes transport infrastructure for unconventional oil and gas.
For several years, BNP Paribas has conducted a thorough review of its portfolio of electricity-producing customers in order to align its policy in this area with the objectives of the Paris Climate Agreement.
In line with these commitments, BNP Paribas is speeding up its timetable for a complete exit from coal:
BNP Paribas is expanding to all OECD countries its target to end the use of coal by its electricity-producing customers by the end of 2030. The end date for coal use by its electricity-producing customers is now 2030 for the European Union and the OECD, and the commitment to end for the rest of the world in 2040 is maintained. The large majority of BNP Paribas' electricity-generation customer portfolio is located in the European Union and in the other OECD countries.
As of today BNP Paribas will not be accepting any new customers whose share of coal related revenue surpasses 25%
Furthermore, the Group will continue its commitment to end, in the near future, relations with any customer developing new coal-based production capacity.
All these provisions concern both loans and financing through financial markets.
After reviewing the portfolio, the implementation of this policy will quickly lead to a reduction of about half of the number of companies producing electricity from coal among BNP Paribas' customers.
Customers who remain in the portfolio have a coal-exit trajectory compatible with the objectives of the Paris Agreement or ones that the Group believes likely to be aligned to it in the coming years. BNP Paribas' teams will ensure this alignment through constant dialogue with customers and will take the necessary decisions as and when needed.
"For almost 10 years our policies have attested to our commitment to be a major international bank that is particularly advanced with regard to the energy transition. BNP Paribas is the first bank in the world that has set a coal-exit date, decided to end the financing of shale-gas and tar-sands specialists, and acquired a leading position in financing renewable-electricity projects. Beyond coal and unconventional hydrocarbons, we are putting in place innovative tools that will enable us to systematically introduce environmental criteria into our lending decisions and align our portfolio with the objectives of the Paris Agreement." said Jean-Laurent Bonnafé, Director and Chief Executive Officer of the BNP Paribas Group.
[1] 2018 Global Mix. Source: IEA
The Board of Directors of BNP Paribas met on 4 May 2020. The meeting was chaired by Jean Lemierre, and the Board examined the Group's results for the first quarter 2020.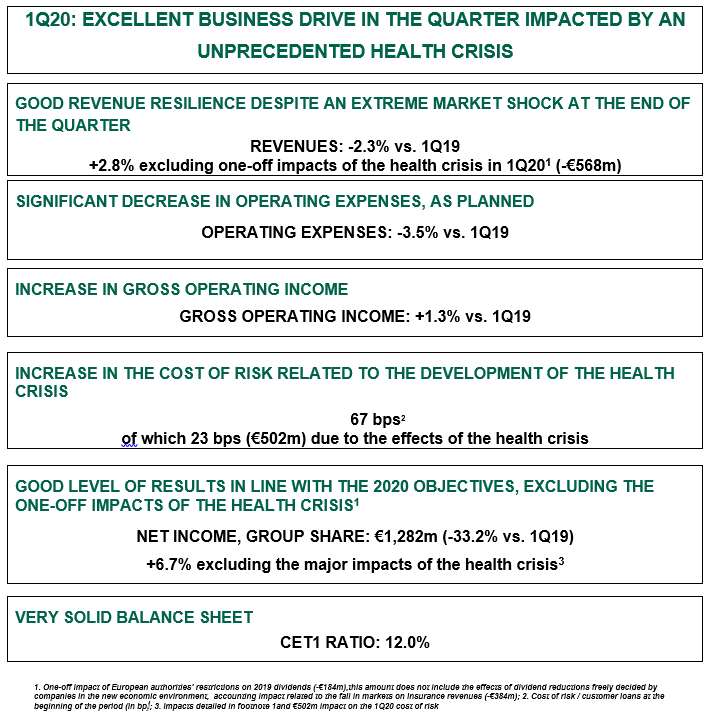 Read the press release: "BNP Paribas Group: Results as at 31 March 2020"
Assets under management at year-end 2019 amounted up to €27.9 billion (+22.1%)
Gross written premiums for 2019 amounted up to €2.1 billion (-20.0%)
Net Profit Before Tax 1 totalled €50.8 million (+4.6%)
Per December 31st, 2019 Cardif Lux Vie recorded a very strong increase in its assets under management, which totalled €27.9 billion (+22.1% increase on 2018 performance). The Company's net profit before tax 1 amounted up to €50.8 million (+4.6% increase on 2018 performance) with a turnover of €2.1 billion (-20% decrease on 2018 performance). In a context of economic and financial instability, Cardif Lux Vie maintained a good level of inflow of Unit Linked business while also performing well in terms of premiums to the General Fund.
The year was also marked by a growing CSR commitment, with the systematic integration of ESG criteria (ESG= Environmental, Social and Governance) into Cardif Lux Vie's investments, revised eligibility criteria for outstanding balance insurance (ASRD) and a new range of socially responsible financial solutions.
Wealth management: Balance and SRI
With regard to its wealth management activity, Cardif Lux Vie gross written premiums amounted up to €2.0 billion. This activity was balanced in nature, both geographically with its internationals partners and in terms of the allocation between the General Fund and Unit Linked; with the latter accounting for 66% of the new premiums. Cardif Lux Vie also enhanced its specialised insurance fund product offering during 2019 and added a range of SRI (Socially Responsible Investment) financial solutions.
Local market: Inflow of €156.8 million
With an inflow of €156.8 million (slightly down compared to the record level of 2018), Cardif Lux Vie maintained its position as a major bancassurance player on the local market. The Savings business totalled €131.7 million (-16.1% decrease on 2018 performance) whilst Protection is stabilising at €25.1 million. In 2019, Cardif Lux Vie launched a new leading supplemental pension offer for professionals and the self-employed, and also completely renewed its Credit Protection Insurance and Programmed Retirement Savings product range. Finally, Cardif Lux Vie has implemented the actions necessary in order to foresee in a realignment of its strategy focussing on its individual life insurance activity on the future.
Constantly striving to provide our policyholders with high-quality products and services
"Cardif Lux Vie had an excellent year in terms of its assets under administration and earnings before taxes. We have stepped up our efforts to improve our operational efficiency, with the constant striving of providing our policyholders with high-quality products and services. Our ambitions in terms of CSR commitment have also been at the heart of our strategy, notably with the systematic integration of ESG criteria into our investments.
In the current context of the health crisis, we are trialling today new ways of working within our Company and we are developing new ways to support all of our partners. With our shared flexibility and agile approach, we will continue, as always, to act in the best interest of our clients. I am convinced that we will emerge from this crisis stronger than ever thanks to the unwavering solidarity and commitment of our employees." Christian Gibot, CEO of Cardif Lux Vie.
Key figures for the year ended 31/12/2019
Number of employees
317
Turnover
EUR 2.1 billion
Assets under management
EUR 27.9 billion
Net Profit before tax1
EUR 50.8 million
1) Net income before tax, according to Luxembourg GAAP standards, equivalent to pre-tax income of €56 million under group IFRS.
Press contact – Cardif Lux Vie
Emilie Sansonetti – emilie.sansonetti@cardifluxvie.lu
Press contacts – BGL BNP Paribas
Eliane Thines – eliane.thines@bgl.lu
Corinne Thill – corinne.thill@bgl.lu
 A direct support plan, activated in over 30 countries.
Local support for hospitals, vulnerable populations and young people.
An additional commitment bringing the Group's contribution to over €50m.
BNP Paribas and its subsidiaries around the world have mobilised from the outset of the crisis to have a direct impact on the hospital system, medical research and institutions that help the most vulnerable amongst us and disadvantaged young people. Actions in aid of communities are the priority of our emergency support plan, especially when deployed in the field, in support of medical professionals, NGOs and social services support associations that fight every day to seek solutions to this healthcare and social crisis.
BNP Paribas' teams, with a strong local presence, have already provided support on a number of fronts, including through grants to numerous local NGOs in Europe, Asia and Africa, various bank and insurance solidarity funds, and research via the Pasteur Institute in France. The various actions have so far amounted to €25m, in addition to many other kinds of contributions, including the donation of 3 million masks to hospitals across Europe.
To strengthen its support in the face of the health crisis, BNP Paribas is now launching a new emergency support plan that brings the Group's financial commitment to over €50m. The plan is implemented via actions identified by BNP Paribas' teams across the various regions the Group is present in, and adapted to specific local needs. It aims to help hospitals and vulnerable populations across 30 countries. These actions are supplemented throughout the world by volunteering engagements by BNP Paribas employees who, in their working hours, make themselves available to support associations mobilised to face the crisis.
The additional €25m amount is structured as follows:
A hospital support plan, with a focus on particularly affected countries where the Group has a strong presence (France, Italy, Belgium, Poland, United Kingdom, Spain, Portugal) but also in the rest of Europe, North and South America, Asia, Africa. Support is provided locally in line with the needs expressed by the healthcare community in each country: Actions in France and Belgium jointly with the governing bodies of university hospitals, funding for research and emergencies at Italian hospitals and a field hospital in the Queens neighborhood of New York, or acquisition of screening tests for hospital staff in Poland.
Actions in favour of vulnerable populations highly affected by the crisis: Support given to NGOs in several countries, who are providing food aid to the poor, refugees, isolated elderly persons, and women and children who are victims of violence. Specific action will be taken in regions where BNP Paribas operates. In France, the Seine Saint Denis municipality, a highly affected area in which BNP Paribas is the largest private employer, will be subject to a specific plan to support local hospitals, as well as plans to support the local healthcare and social structure in conjunction with the local authority. A specific programme is also implemented to support social and solidarity businesses and microfinance institutions whose clients are in difficulty in Europe, Asia, Africa and South America.
For youth, assistance to pupils facing the digital divide (provision of computers and digital keys and digital inclusion programmes) through partner associations in several countries.
As part of this support plan, BNP Paribas also calls on its employees to mobilise by activating its emergency and development fund worldwide as of 10 April. This will help to support a global programme of humanitarian NGOs mobilised to face the crisis: support for healthcare personnel, food safety in areas most affected, water supply and hygiene awareness. Each employee contribution will be matched by BNP Paribas.
'In the face of the health crisis, the response can only be collective. This is the direction of the measures we have put in place to support our corporate and private clients. We must also all stand alongside those who care for us and pay particular attention to all those who are facing great difficulty in the current situation. This is the thrust of the emergency support plan that we are implementing throughout the world for the benefit of the most vulnerable hospitals and populations, based on the fact that, in all the countries where BNP Paribas operates, our employees are themselves committed players in civil society.' said Jean Laurent Bonnafé, Director and Chief Executive Officer of the BNP Paribas Group.
• +9.1%* FLEET GROWTH, OUTPERFORMING THE MARKET
• DOUBLE-DIGIT GROWTH IN MOST GEOGRAPHIES
• STRONG GROWTH IN THE RETAIL BUSINESS
• ELECTRIC VEHICLES TAKE UP, WHILE DIESEL DECREASES IN TOTAL FLEET
• A PIVOTAL YEAR IN 2020 WITH A NEW STRATEGIC PLAN: ARVAL BEYOND
• +26% FLEET GROWTH FOR ARVAL LUXEMBOURG
2019, another year of strong growth for Arval 
Arval is the specialist in full service vehicle leasing and new mobility solutions. Thanks to its full best in class range of services, delivered in 29 countries by more than 7,000 employees, Arval outperformed the market in 2019 and is one of the fastest growing leasing companies in the world. 2019 generated excellent growth for the company, and intensified market shares: Arval is the overall market leader in the countries where it operates.
In 2019, Arval leased fleet grew by 9.1%* overall, reaching 1,298,404 vehicles. The number of vehicles ordered increased by 8% year-on-year, totalling 380,982 vehicles. The number of end-of contract vehicles sold was up by 6% year-on-year, totalling 269,830. Most of Arval geographies have double-digit fleet growth: +20.8% in the Nordics, +19.3% in Central Europe, +16,2% in Benelux & Southern Europe. Arval biggest countries in terms of fleet (France, UK, Spain and Italy) grew by +7.3%.
In terms of client segments, last year, Arval grew across all of them, with +7% in the Corporate & Public segments and +25% for the Mid Term Rental fleet. In 2019, the Retail fleet showed a very strong growth (+14% vs 2018), within which the private lease fleet increased by +42% vs 2018, closing the year just below the 300,000 mark.
As part of a rapidly evolving industry and in line with its strong CSR commitment, Arval moved one-step ahead towards energy transition with two main trends in 2019: the decrease of diesel share in Arval fleet to 75%, and the acceleration of the take-up of electric vehicles. Also, for the 4th year in a row, Arval was awarded the gold recognition level on the EcoVadis CSR platform, rating it among the top 2% best companies in the "Renting and leasing of motor vehicles" industry. This excellent performance confirms the success of Arval in its daily mission: offer people the possibility to have a positive impact on society, their communities, and preserve the planet.
Overview of 2019 highlights
In 2019, Arval celebrated its 30 year-anniversary, a recognition of its long-term know-how and expertise. With the arrival of a new Chairman and CEO, Alain Van Groenendael, 2019 was both a year of completion and new dynamics to prepare the future.
In response to the ways in which business transportation is rapidly changing, the Corporate Vehicle Observatory became the Arval Mobility Observatory in 2019, to provide independent research to understand and anticipate changes in the world of mobility. By joining the MaaS (Mobility-as-a-Service) Alliance last year, Arval reaffirmed its willingness to build tomorrow's integrated mobility solutions together with partners. Arval also opened 4 "hubs", serving as testing labs on cutting edge topics: Connected Cars, Energy Transition, Mobility and Autonomous Cars.
Finally yet importantly, Arval changed its brand platform and tagline for "For the many journeys in life". A way to show that Arval believes its role goes well beyond car leasing, embraces new mobility means, and answer to the new challenges of a fast pace changing industry.
On the road to 2020, a pivotal year for Arval
2020 will aim at setting the ground for Arval Beyond, Arval's future strategic plan, making the company ready to grow steadily in a new world, based on its main asset but reinventing its business model.
2020: innovating further
Arval capitalizes more than ever on its SMaRT (Sustainable Mobility and Responsibility Targets) approach to support its clients managing their energy transition. Electric Vehicles are a key part of this methodology because they offer a relevant alternative to more traditional mobility solutions in many cases. Arval has indeed a strong ambition in this matter for 2020: growing at twice the pace of the market, when it comes to EV registrations. Beyond EVs, Arval is convinced that new mobility options are possible and pertinent: not only car-sharing, bike-sharing, ride-sharing but also autonomous shuttle, Arval's latest innovation inaugurated by Arval France recently.
2020: reinforcing the geographical presence
In 2020, Arval will keep on developing its footprint over the world. Early January, Arval opened offices in Colombia, strengthening its presence in this fast growing LATAM region. 2020 is also the 25 year-anniversary of the Element-Arval Global Alliance, the longest standing strategic alliance in the fleet management industry. The Element-Arval Global Alliance is the worldwide leader in fleet management and currently manages more than 3 million vehicles in more than 50 countries worldwide across North America, Latin America, EMEA and Asia-Pacific.
"After one year as Chairman and CEO, I am very proud to present such strong results for Arval. Thanks to the commitment of our employees, Arval is ready to change and adapt to its customers' evolving needs thanks to new services, especially based on mobility. We have exciting times ahead of us: Arval will accompany its clients in all their journeys, through cars, of course, but not only! I will be very pleased to share with you soon our new strategic plan, Arval Beyond", comments Alain Van Groenendael, Arval Chairman and CEO. 
*Growth rate end of period 2018-2019 on a comparable basis
ARVAL LUXEMBOURG ACHIEVES STRONG FLEET GROWTH OF 26% IN 2019
The Arval Luxembourg fleet grew an impressive 26% in 2019, taking the number of leased vehicles to over 9,000. This performance, which was well above average for Luxembourg's company car market, clearly demonstrates the value of a strategy based on expert advice and high-quality everyday services.
In December 2019, Arval Luxembourg won the "Most appreciated leasing company of Luxembourg 2019" prize at the Link2Fleet Forum Awards. In receiving this prize, Arval Luxembourg was recognised for offering the best overall quality, capacity for innovation and everyday service quality to its clients.
Overview of Arval's solutions in 2019
The Arval Mid Term Rental (1 to 24-month lease) continued to gain traction on the Luxembourg market, with the number of leases signed rising by almost 41% in 2019. This solution was designed to meet the need for flexibility among Luxembourg companies as a result of spikes in activity, seasonal spikes and the various phases of the recruitment process (trial periods, fixed-term contracts, etc.).
At the same time, Arval Luxembourg continued to draw upon its partnership with BGL BNP Paribas to promote its Private Lease via the latter's branch network. The Private Lease is a long-term vehicle lease solution aimed at private individuals living in Luxembourg. A number of new solutions were brought to market over the course of the year offering a range of models to meet the varying needs of these target private clients.
As part of its ongoing commitment to drive innovation on the Luxembourg market, Arval has developed the SMaRT approach: Sustainable Mobility and Responsibility Targets. This five-stage proposal, aligned with Arval's "green mobility" goal, is used to help clients define and implement an energy transition strategy for their fleets. The SMaRT method was devised to meet clients' ever-changing needs as they draw up energy transition strategies and to help fleet managers execute and monitor them.
"Arval Luxembourg owes its success to our determination to guarantee impeccable service quality to our clients on a daily basis. Systematic surveys of fleet managers and drivers enable us to quickly detect and, where necessary, resolve potential issues before they arise and guarantee a very high level of satisfaction. These efforts will continue in 2020 as we carry on relying on the expertise of our Luxembourg-based staff, further cross-selling with BGL BNP Paribas and innovative new solutions reflecting our commitment to sustainability," says Gerry Wagner, Managing Director of Arval Luxembourg.
 Arval Luxembourg contact :
Véronique Bourgois – veronique.bourgois@arval.lu – +352 44 91 80
Press contacts Luxembourg
Eliane Thines – eliane.thines@bgl.lu – +352 42 42 62 64
Corinne Thill – corinne.thill@bgl.lu – +352 42 42 30 85
Arval contacts:
Christelle Paillès – christelle.pailles@arval.com – +33 (0)1 57 69 53 69
Mathilde Aureau – mathilde.aureau@arval.com – +33 (0)1 57 69 54 15
Easing political risks, improving economic indicators, equity market valuation, underlie the 10 investment themes for 2020 selected by BNP Paribas Wealth Management strategists in the US, Europe and Asia to guide investors towards attractive opportunities.
The first three themes are aimed at investors with a more conservative profile looking for steady incomes, themes 4 & 5 address opportunities in global trends, themes 6 & 7 are related to environmental issues and human capital, the last 3 themes focus on disruptive innovation, the digitalisation of consumption and technological innovations in the healthcare sector.

«Easing political risks and improving economic indicators will support the upward trend in risky assets in 2020. Like last year, our 10 investment themes for 2020 will mainly focus on the equity markets using tactical and structural themes», said Florent Bronès, Chief Investment Officer at BNP Paribas Wealth Management.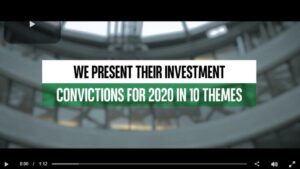 10 INVESTMENT THEMES FOR 2020
– Three themes offering alternatives for investors with a more conservative risk profile and offering solutions in lower volatility assets
THEME 1 – The shift from bonds to equities
Bond yields are set to remain extremely low for a long time. The race for yield will continue to whet investor appetite for high, safe and growing dividend stocks, which are known as 'dividend aristocrats'.
This theme mainly concerns investments in developed markets. In this space, the problem of squeezed bond yields is widespread.
This theme is proving an attractive alternative for investors looking for steady income, as long as they invest over the long term and accept higher volatility than that in the bond market.
THEME 2 – Investing in high-quality companies : still a choice investment in 2020
Economic growth will remain weak and vulnerable to shocks. Companies' profit margins are high. This is an ideal environment for quality stocks that delivered significantly above average returns in 2019. A stock is deemed high quality when it meets three criteria: high profitability, a low gearing and low profit variability. Companies investing heavily in research and development (R&D) are part of this defensive universe.
This theme allows for a prudent approach to equity markets.
THEME 3 – Defensive diversifiers: seeking low risks yields
As we approach the end of the economic cycle, some investors are increasingly looking for a defensive positioning in their portfolios. Investment opportunities have shrunk since central banks adopted negative rates in the Eurozone and Japan. Slightly more than 20% of global bonds have a negative yield-to-maturity. However, there are still solutions that offer positive expected returns for a relatively low level of risk.
Diversification reduces the overall risk of a portfolio. We recommend diversifying assets in a number of low-risk products and others with a calculated risk.
– Two themes that address opportunities in global trends such as deglobalisation and fiscal stimulus policies
THEME

4

– Deglobalisation: beneficiaries of the reversal in global trade 
The shifting trend from globalisation to regionalisation/localisation is creating opportunities in regional/local markets including mid- and small-caps. At the same time, deglobalisation also entails more political/geopolitical uncertainty, which could lead to market volatility. Investors are recommended to hedge their portfolios with safe-haven assets.
THEME 5 – From monetary to fiscal policies: opportunities in infrastructure spending
Fiscal stimulus has been underway in many countries, and more is expected in 2020.
Investors may benefit from an increase in fiscal spending through:
– Building/construction material stocks
– Renewable energy and clean transportation stocks
– Thematic funds: infrastructure-related mutual funds or private equity funds, green/SRI-related funds
– A re-rating in UK equities
– China policy beneficiaries (multi-assets) e.g. cement, consumer discretionary, staple stocks and selective Corporate bonds.
– Two themes linked to a transition towards a more socially-responsible world with a focus on environmental issues and human capital
THEME 6 – The environment & the future of the planet: water and waste management
We expect a growing demand for goods and services, in particular related to water availability, waste management as well as clean and renewable energies. The awareness related to ESG criteria should also incite investors to focus on such sectors.
We focus our attention on 2 sub-themes/
– Water and waste management : opportunities for investors interested in collection methods, recycling, waste-to-energy solutions and any innovations that a company may offer in these fields
– Clean and renewable energy: Promising industries are those related to technological innovation and equipment in solar, wind, geothermal energy and hydroelectricity. Other chief areas include batteries and related chemicals as well as power and grid equipment-makers.
THEME 7 – Investing in human capital: 'best employers', education and healthy living
We expect a growing demand for goods and services related to these areas. Companies which obtain high ratings in the areas of 'best employers' or 'gender equality' have shown a strong performance in terms of the risk-return trade-off.
We focus our attention on 3 sub-themes:
– Best Employers and gender equality: The approach for selecting companies is based on rankings such as 'Best companies to work for' (e.g. Fortune). Regarding gender equality, there are similar rankings (e.g. Equileap).  
– Microfinance and education: Microfinance is a key driver to support sustainable growth and fight poverty. In education, we have identified opportunities in new technologies in the areas of digital education, education management as well as services and supplies.
– Healthy food and food security:We see opportunities in areas such as alternative food, environmentally-friendly food production, food safety as well as healthy and natural food.
– Three themes dedicated to disruptive innovation, the digitalisation of consumption and technological innovations in the healthcare sector
THEME

8 – Benefiting from disruption: 5G and Artificial Intelligence innovations
This theme concerns all regions: the companies that play a key role in this theme are located in the US, Europe and Asia. The 5G technology market will truly take off in 2020. Among others, It includes mobile network equipment and operators, manufacturers of semiconductors, antennas, towers and software providers. Innovation is developing at such a fast pace that risks (above-average volatility) are very high. Significant diversification is required to reduce these risks as well as a long-term investment horizon.
THEME

9 – Consumers become hyper-connected: new trends in digital consumption
This technology theme is aimed at dynamic investors, who are interested in innovation, the progress in the Internet and new means of communication.
There are many (large) companies listed on the US equity markets to play this theme. In addition, many funds, trackers, structured products and private equity make it possible to invest in this theme.
The other major regions of the world, Europe and Asia, are also booming in this area. In particular, North-East Asia has even overtaken the West, in a whole new range of consumer applications.
THEME

10 – Innovations in health care: technology multiplies discoveries and new applications
The health care sector is outpacing the rest of the economy. On the back of growth of the Internet, means of communication, Big Data, data storage, and Artificial Intelligence, health care is progressing considerably at every level.
There are new powerful methods of research and development, new types of treatments, tools and services. This theme is aimed at dynamic investors who are willing to take some risk over a recommended long-term investment horizon.
The most dynamic companies in this area or the fastest-growing ones are often small and medium-sized enterprises (SMEs). However, the risk is often higher because these companies are less mature, less diversified and have fewer resources than large companies operating in this innovative industry.
Therefore, parallel to investing in stocks of a handful of leading companies, in riskier sub-segments, we like investing in diversified funds, which are managed by highly-specialised professionals.
Click here to read the full report of the 10 investment themes for 2020 and the context analysis of BNP Paribas Wealth Management strategists
With 30 years of international experience, Alain Van Groenendael becomes Chairman and CEO of Arval Group, specialised in full service vehicle leasing.
Alain Van Groenendael spent a large part of his career at Citibank in a wide variety of roles and locations, culminating as CEO of Consumer Bank, Western Europe and member of the Citigroup Management Committee. He has also held the posts of Chairman of the Loans & Financial Services Division at the PPR Group and Chairman & CEO of Finaref.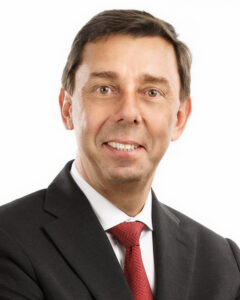 In 2008, Alain Van Groenendael was appointed Board member and Deputy Chief Executive Officer of BNP Paribas Personal Finance. In 2015 he was appointed Chairman of the company and joined the Management Committees of both International Financial Services and Retail Banking at BNP Paribas Group. He played a leading role in the international development of the group by forming many strategic partnerships in the financial services, vehicle and distribution industries, as well as encouraging the digital transformation of the company.
From November 2017 to June 2018, he was the Chairman of Opel Vauxhall Finance.
Alongside, Alain Van Groenendael was also Vice-President of the ASF (French Association of Specialised Financial Companies) and President of Eurofinas (European Federation of Finance House Associations).
For Alain Van Groenendael, "It is with great pride that I am joining Arval. I would like to acknowledge the work of my predecessor Philippe Bismut, who has shown responsibility and boldness during his eight years at the head of Arval. It is now my responsibility to bring further innovative support and solutions to adapt our offer to continuously changing mobility needs. Arval's employees in 29 countries around the world can count on my total commitment to our success."
Alain Van Groenendael is a graduate of ICHEC Brussels Management School and also a qualified Sales Engineer from Saint-Louis University in Brussels.
His appointment as Chairman and CEO of Arval took effect on 1st January 2019.
About Arval Luxembourg
Established in 1997, Arval Luxembourg is one of the leaders in multi-brand leasing of corporate vehicles in the Grand Duchy of Luxembourg. Part of the BNP Paribas Group, Arval Luxembourg offers its customers – private and professional clients, SMEs, large international groups and public sector bodies – dedicated solutions designed to optimise staff mobility and to outsource the risks associated with the management of their vehicle fleet. Expert advice and a high-quality service, the foundations of the Arval brand promise, are delivered by our employees every day. Under the direction of Gerry Wagner, General Manager, Arval Luxembourg had more than 7,000 vehicles on lease at the end of 2018.
www.arval.lu
About Arval:
Founded in 1989 and fully owned by BNP Paribas, Arval specialises in full service vehicle leasing. Arval offers its customers – large international corporates, SMEs and professionals – tailored solutions that optimise their employees' mobility and outsource the risks associated with fleet management. Expert advice and service quality, which are the foundations of Arval's customer promise, are delivered in 29 countries by over 6,500 employees. Arval's total leased fleet adds up to 1,103,835 vehicles throughout the world (December 2017).
Arval is a founding member of the Element-Arval Global Alliance, the longest standing strategic alliance in the fleet management industry and the worldwide leader with 3 million vehicles in 50 countries. Within BNP Paribas, Arval belongs to the Retail Banking core activity.
www.arval.com
About BNP Paribas:
BNP Paribas is a leading bank in Europe with an international reach. It has a presence in 73 countries, with more than 196,000 employees, including more than 149,000 in Europe. The Group has key positions in its three main activities: Domestic Markets and International Financial Services (whose retail-banking networks and financial services are covered by Retail Banking & Services) and Corporate & Institutional Banking, which serves two client franchises: corporate clients and institutional investors.
The Group helps all its clients (individuals, community associations, entrepreneurs, SMEs, corporates and institutional clients) to realise their projects through solutions spanning financing, investment, savings and protection insurance. In Europe, the Group has four domestic markets (Belgium, France, Italy and Luxembourg) and BNP Paribas Personal Finance is the European leader in consumer lending.
BNP Paribas is rolling out its integrated retail-banking model in Mediterranean countries, in Turkey, in Eastern Europe and a large network in the western part of the United States. In its Corporate & Institutional Banking and International Financial Services activities, BNP Paribas also enjoys top positions in Europe, a strong presence in the Americas as well as a solid and fast-growing business in Asia-Pacific.
www.bnpparibas.com
Arval Luxembourg contact:
Véronique Bourgois                           +352 44 91 80                         veronique.bourgois@arval.lu
Press contacts Luxembourg:
Eliane Thines                                                 +352 42 42-62 64                           eliane.thines@bgl.lu
Corinne Thill                                                  +352 42 42-30 85                           corinne.thill@bgl.lu
Focus on 10 investment themes
Good trend of economic growth and earnings, improvement in the stock market environment and easing political tensions underpin the 2019 investment themes selected by BNP Paribas Wealth Management strategists in the US, Europe and Asia to guide investors towards attractive opportunities.
These themes – anticipating markets' growth potential – are therefore oriented towards taking risk and mostly focus on equity markets. The first two, however, offer alternatives for investors with a more conservative risk profile.
The 10 investment themes are articulated as follows: cautious strategies, themes dedicated to Asia, themes dedicated to equity markets and theme dedicated to currency diversification.
"For 2019, we expect fundamentals to prevail again, and so we think that political risk will diminish in the future." announces Florent Bronès, Chief Investment Officer at BNP Paribas Wealth Management. "Our base scenario for 2019 remains favorable for risk assets as fundamentals are still positive. Profits continue to rise, albeit more slowly, especially in the United States, interest rates are historically very low as inflation remains timid and stock markets are not too expensive. This consolidation is an opportunity to strengthen positions, if necessary."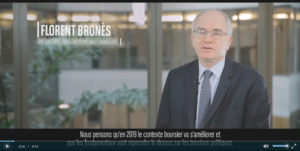 10 INVESTMENT THEMES FOR 2019 
CAUTIOUS STRATEGIES VIA DEFENSIVE INVESTMENTS AND REAL ASSETS  
Theme 1 – Volatility: adopting cautious strategies via defensive investments and real assets
The year 2019 will be marked by the normalization of monetary policies and the impact on liquidity. Thus, volatility may cause trouble on the financial markets. Certain assets considered as defensive and other unlisted assets will be more suitable for investors with a more cautious risk profile. 
Theme 2 – Nearly the end of the stock market cycle: favoring solid companies
The approach of the end of the cycle in the United States and the overall tightening of monetary policies favor an outperformance of quality securities (high profitability, little indebtedness and low variability of profits). In the eurozone, companies that generate high and sustainable dividends also offer a good opportunity for quality investments. In addition, we recommend US and Asian corporate bonds with high credit ratings and short durations.
THEMES DEDICATED TO ASIA
Theme 3 – China's markets: riding the internationalization of the financial markets
China's journey of liberalization has continued to accelerate with its stock, bond and currency markets opening up further. In 2018 there were more government announcements to ease restrictions on foreign access to the domestic financial market. The increasing inclusion of both onshore equities and bonds in the major international indices is a milestone for the internationalization of China's capital markets, which will take a hundred billion (or even a trillion) dollars of inflows to the domestic market in the medium to long term.
Theme 4 – International trade tensions: anticipating the redistribution of roles in Asia
Even before US-China trade tensions emerged, manufacturers were moving their supply chains from China to low-cost regions such as Southeast Asia, India, Eastern Europe and Mexico.  The trade dispute is a wake-up call for companies to grasp the importance of diversifying their production bases. We believe that trade tensions will accelerate this trend. In the context of this theme we identify the sectors that will benefit from the shift and upgrade in supply chains and we look at their knock-on effects on local consumption markets in the medium to long term.   
THEMES DEDICATED TO EQUITY MARKETS   
Theme 5 – Responsible and innovative mobility: transforming the way we get around
In cities that are often saturated and polluted, economic players are grappling with the challenge of mobility and are endeavouring to come up with new transport solutions. The challenge of more efficient mobility offers investment opportunities across the whole value chain. This theme addresses all responsible mobility solutions (urban, logistics, individual and shared transport).
Theme 6 – Tomorrow's security: modernizing protection & cyber security and using the blockchain
Security has become a major preoccupation for individuals, businesses and governments. This fast-growing market offers attractive prospects for companies operating in the protection of goods and people, quality control and cybersecurity.
Theme 7 – Urban transformation: promoting a more efficient water and waste management
With the fast growth of cities, it has become an absolute necessity to have a better water and waste management. To meet this challenge, public authorities are fixing themselves more ambitious targets for recycling waste, including plastic. This theme identifies investment opportunities in companies offering innovative solutions for water management and a more efficient waste treatment.
Theme 8 – Health and well-being: focusing on the business of longevity
One of the major demographic trends is life extension. By 2050, life expectancy worldwide is set to increase by seven years. One consequence is that people will have more free time and will seek to lead a healthier lifestyle, especially as seniors have never been in such a strong financial position.
This phenomenon is creating good investment opportunities in the Health, Nutrition and Leisure sectors. 
Theme 9 – Industry 4.0: betting on the winners of the current revolution
The business world is undergoing another industrial revolution, the fourth to date. This one is characterized by a major transformation of the value chain. Optimizing costs, time and resources is becoming a priority. Indeed this priority ushered in the fourth industrial revolution. Industry 4.0 spans a very wide universe including robotics, connected objects, Artificial Intelligence, cloud technology, Big Data, 3D printing, etc. Companies are showing a huge willingness to invest.
THEME DEDICATED TO CURRENCY DIVERSIFICATION  
Theme 10 – Currencies: finding diversification opportunities
In an environment of low yields offered in euro terms coupled with upside potential, a positioning in the Norwegian krone (NOK) or Swedish krona (SEK) represents an opportunity for additional returns for euro-based investors. Emerging Market currencies have already borne the brunt of the anticipated depreciation and appear attractive for dollar-based investors.
Read the full report of the 10 investment themes for 2019  and the context analysis of BNP Paribas Wealth Management strategists
Press contacts 
Servane Costrel de Corainville
+33 (0) 6 74 81 98 27 – servane.costreldecorainville@bnpparibas.com
Floriane Ettwiller
+33 (0) 7 62 27 48 34 – floriane.ettwiller@bnpparibas.com