The BNP Paribas Group activities in Luxembourg
The biggest employer of the Luxembourg financial sector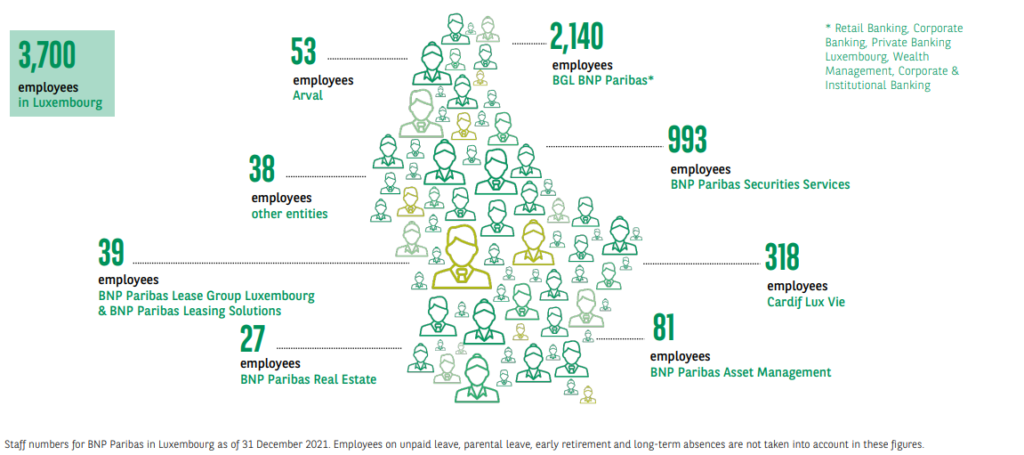 Activities of BGL BNP Paribas
BGL BNP Paribas' Retail Banking business line offers its clients (private individuals, professionals and entrepreneurs) a set of products and services ranging from daily banking to financing, as well as savings, bancassurance and investments products. It has one of the widest rangers of retail banking products in Luxembourg, including private leasing. The Retail Banking network in Luxembourg has 34 branches serving more than 180,000 clients.
BGL BNP Paribas Banque Privée
BGL BNP Paribas Banque Privée provides clients who live in Luxembourg or the Greater Region with comprehensive and customized financial and wealth management solutions. It serves more than 3,500 clients through its 5 private Banking centers in Luxembourg.
Wealth Management targets and international client base, in particular business owners and families, supporting them in their specific needs by means of tailored asset and financial management solutions, in addition to a suite of high quality services: investment advice, discretionary management, wealth planning and organization, asset diversification and financing.
Through its Corporate Banking business line, BGL BNP Paribas is Luxembourg's number one partner for large firms, the public sector and institutions, social organizations, real estate professionals and start-ups. The product range is structured around different areas such as Financing (classic, projects, transfers and acquisitions, real estate), Trade (letters of credit, documentary loans), Cash Managements (cash pooling, multibank cash management tools, cards programs,…), Rate risk coverage (exchanges, interest) and Escrow accounts. As part of the BNP Paribas Group, BGL BNP Paribas also gives its 5,000 corporate clients access to all of the Group's specialist business expertise and services.
Corporate and Institutional Banking
Corporate and Institutional Banking offers products and services related to the capital and financing markets in Luxembourg to corporate and institutional clients.
BGL BNP Paribas Development
BGL BNP Paribas Development was created in 2021 to support Luxembourg businesses by acquiring minority interests. Through direct investment in unlisted Luxembourg commercial, industrial and technology companies, the bank intends to play a role in their organic and external growth plans and to support them in business transfers.
Other activities of BNP Paribas in Luxembourg
BNP Paribas Asset Management Luxembourg
With assets of more than EUR 130 billion under management at the end of 2021, BNP Paribas Asset Management Luxembourg is a management company licensed to manage UCITS and AIFs. As a cross-border Luxembourg fun distribution platform, BNP Paribas Asset Management Luxembourg has taken up a key support role for the whole of the BNP Paribas Asset Management organization, and aims to generate long-term returns of its clients, following a unique philosophy based on the sustainability of its funds' investments.
BNP Paribas – Luxembourg Branch – Securities Services business
BNP Paribas – Luxembourg Branch – Securities Services business offers solid, renowned expertise and an unparalleled knowledge of fund administration and custody, international bond issues and the associated financial engineering. In December 2021, assets under administration totaled EUR 475 billion, and custodian banking assets EUR 576 billion. 1,603 funds were under administration. This select partner, certified as a Socially Responsible Company by INDR*, is also the number one listing agent for bond issues on the Luxembourg stock exchange, and is ranked top Private Capital fund custodian in Luxembourg (Monterey survey).
Cardif Lux Vie provides a vast range of life insurance solutions (savings and pension) for retail and professional clients through bancassurance and brokerage networks in Luxembourg and the Greater Region. The company also provides wealthy international clients with custom offers through a vas network of prestigious partners. Assets under management totaled EUR 31,9 billion and end-2021.
Arval Luxembourg offers its clientele of private individuals, professionals, SMEs, large international companies and public bodies bespoke solutions designed to optimise their transport and outsource the risk associated with managing a vehicle fleet. Its staff provide expert advice and impeccable service – core elements of the Arval brand promise – on a daily basis. The fleet managed by Arval Luxembourg comprised over 12,000 vehicles at the end of 2021.
BNP Paribas Lease Group Luxembourg
BNP Paribas Lease Group Luxembourg is the leading service provider in the local financial leasing market and offers attractive equipment financing solutions to its professional clients.
BNP Paribas Leasing Solutions S.A.
BNP Paribas Leasing Solutions S.A. (the holding entity of the leasing business and a subsidiary in which BGL BNP Paribas holds a 50% stake), operates under the BNP Paribas Leasing Solutions banner to offer a wide range of leasing and financing solutions to businesses and professionals. BNP Paribas Leasing Solutions is one of Europe's top leasing and finance specialists and mainly covers two major types of equipment: vehicles and technological hardware.
BNP Paribas Real Estate offers tailored solutions with support at every stage of a real estate project, drawing on the expertise of six real estate lines: property management, valuation, advice, transaction, promotion, investment management.
BNP Paribas Real Estate Investment Management
BNP Paribas Real Estate Investment Management offers range of real estate funds to institutional investors worldwide.
**Institut National pour le Développement durable et la Responsabilité sociale des entreprises (INDR)