Join us
Vous voulez faire partie de l'aventure de la banque d'un monde qui change ? Rejoignez-nous !
THE BNP PARIBAS GROUP IN LUXEMBOURG IS "TOP EMPLOYER" CERTIFIED
The BNP Paribas Group in Luxembourg has again been awarded the prestigious "Top Employer Luxembourg" certification for outstanding working conditions.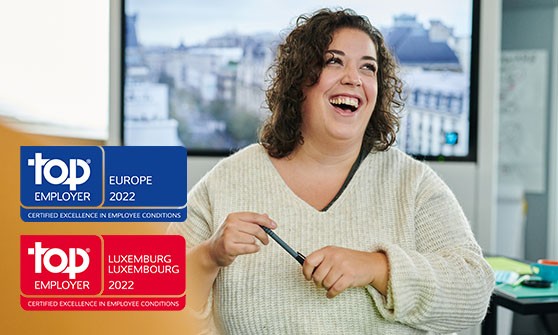 Every year the Top Employers Institute, an internationally renowned independent organisation, certifies companies providing staff with excellent working conditions and promote their personal development. Following an assessment conducted by an independent auditor, the BNP Paribas Group in Luxembourg received once again this year this distinction. In addition, for the eighth year in a row, the BNP Paribas Group has also received the "Top Employers Europe" label, with certification for 8 countries: Belgium, France, Italy, Luxembourg, Poland, Turkey, Spain and Ukraine.
The prize highlighted effort made on certain themes.
In Luxembourg, four themes scored particularly highly: "Ethics, staff commitment and CSR" thanks to the One Million Hours to Help volunteer program or even the "Working Environment" with the implementation of general remote working.
"The health crisis has permanently changed our way of working. Our objective was to reconcile these profound changes while maintaining the collective spirit. We managed to meet this challenge thanks to the commitment of our employees to our company and its customers. Our efforts have been rewarded with the Top Employer Luxembourg 2022 label, which has once again been awarded to us. We will continue to deploy our initiatives in order to remain a "Good Place to Work". Thank you to all our collaborators!".
Louis de Looz
Head of Human Resources at the BNP Paribas Group in Luxembourg